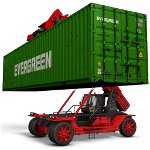 We deliver consolidated cargo of almost any size and weight from the United States to Russia, Ukraine, Germany, Poland, and Finland.
There are several ways to ship cargo depending on size and weight:
1. Disassemble a large item, divide it into several parcels and repack. Such situations happen quite often and sometimes customers have no idea that this is an option.
2. If the item is large and/or heavy and you don't need fast delivery, you can ship it by sea as part of consolidated cargo in a container to one of the ports in Russia, Ukraine, the Baltic States, Poland, Finland, or Germany.
3. Air Cargo: fast delivery by Aeroflot or another airline to Moscow, Saint Petersburg, Kyiv, or one of the nearest airports.
4. Turnkey delivery, i.e. with our customs clearance. The cargo is delivered directly to your door or to the destination city.

We ship heavy and oversize cargo by well-known air and sea carriers
Delivery includes:
filling out the invoice and the air or sea waybill,
arranging other documents, if necessary
delivering the cargo from our warehouse to the Port of Baltimore, New York, or JFK
shipping to the destination port or airport.
In such a case, the cargo is received by the addressee or his/her authorized representative at the destination port and airport. Customs clearance is the responsibility of the recipient.
Should the need arise, RusBid provides:
cargo delivery within the United States to our warehouse,
storage,
packing and registration of your goods for shipment,
customs clearance of your freight.
The cost of delivering consolidated cargo from the United States depends on the weight, size, type of goods, delivery type, destination, packaging, fuel prices, and other conditions.
RusBid Purchase, Consolidation and Shipment Rates
Purchase of Goods (Cargo)
up to $1000
$1000 - $2500
$2500 - $10000
$10000 and more
Purchase and payment on customer's behalf
9%
8%
7%
6%
Receiving purchases paid for by RusBid
free of charge
Cargo packing/sending
free of charge, you only pay for shipping
Self-paid Cargo (Forwarding)
Cargo receiving
$5 per package, $25 per pallet.
Processing and shipping
$0.5/lb ($1.1/kg) + shipping cost
Additional Services
Consolidation, accounting, storage
free up to 1 month, $25 per package or $50 per pallet per month after 1 month
Shipping cars, boats and other equipment, packing, palletizing
by agreement