Parcel Delivery from the United States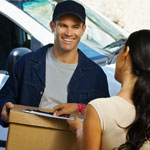 RusBid delivers goods from the United States, offering various shipping options. Depending on size and weight, we can ship your purchases as a small parcel, as a regular parcel, as consolidated cargo, or by container. As the majority of our customers are private individuals, we ship most orders as parcels.
A parcel, also known as package, is a type of mail used to deliver various objects, equipment, foods, documents, printed matter, etc. In fact, you can use parcel service to ship virtually all kinds of goods, except for prohibited ones. There are various types of parcels, including parcels with declared value, ensured parcels, cash on delivery parcels, etc.
Parcel size and maximum weight. Different postal services may have different size and weight limits for parcels. If you parcel exceeds these limits, it can't be shipped by the chosen shipping method.
For instance, the United States Postal Service (USPS) has the following size and weight limits for mailpieces:
Max size – 108 inches in combined length and girth (up to 130 inches for USPS Retail Ground)
Max weight – 70 lbs
Due to our partnership with many shipping service providers and freight companies, we provide our customers with the widest possible choice of delivery methods.
We can ship your purchases right away or store them at our warehouse in order to consolidate them and then ship as one large parcel. According to your orders, we:
pack the parcel,
fill out the customs declaration form,
pay postage,
send the parcel to you,
enter all information about the parcel into your Balance (weight, cost, dispatch date, tracking number, etc.).
We can either consolidate or divide your shipment into several parcels in order to reduce its weight and/or size, avoid customs fees and reduce the cost of delivery in general.
Delivery Services
The delivery of goods to our warehouse in the US is mainly carried out by the three main postal companies: USPS, UPS and FedEx. As a rule, the delivery is organized by a seller or a shop where we or our customers make purchases.

We ship goods from the United States to Russia with the help of long-established carriers, such as:

United States Postal Service (USPS)
Meest
Boxberry
other carriers
FedEx, DHL, UPS, TNT and some other carriers have higher rates or worse service than our preferred carriers, but we can ship your parcel with any of them should you wish so.

To deliver goods that exceed weight and size limits of postal services, heavy and bulky goods, we use the services of other shipping and freight companies.
Shipping Parcels with USPS
Delivery from the United States with USPS is one of the most popular shipping methods. The United States Postal Service offers several international mail services that differ in price, ship time, and some other parameters. You can choose the mail service according to your needs, preferences, and budget.
Global Express Guaranteed is the fastest international shipping service with date-certain international delivery (1–3 business days to many major markets). USPS cooperates with FedEx Express to provide fast international transportation and delivery. Note, however, that it is rather expensive.
Priority Mail Express International is less fast than Global Express Guaranteed (3–5 business days) but more affordable.
Priority Mail International is a reliable and affordable way to send packages internationally if you are ready to wait (delivery takes 6–10 business days).
First-Class Mail International is the cheapest international service, but it has considerable parcel weight and size restrictions, offers no insurance, and delivery may take a long time.
Meest and Nova Poshta
Meest and Nova Poshta are Ukrainian shipping companies that deliver to Ukraine, Russia, Belarus, Kazakhstan, and other CIS states. These companies are our first choice for shipping to Ukraine because they have less strict size and weight limits than USPS, as well as offer lower shipping rates. As far as delivery to Russia is concerned, we use them as alternative delivery methods that enable us to send more parcels to one addressee. Our customers from other countries also use them due to their low rates and reliability.
Weight limits:
for Ukraine - 150 lbs (70 kg)
for Russia - 44 lbs (20 kg)
for other countries - 44 to 66 lbs (20 to 30 kg)
Two types of delivery: by air and by sea. Tracking is provided for all parcels. Door-to-door shipping available in Ukraine, Moldova, Belarus, and some big cities in Kazakhstan, Uzbekistan, Georgia, and Armenia. In other countries and cities, you can receive your parcel at your local post office.
You can choose the best delivery method, time and cost, using the Shipping Calculator
that can be accessed from any page of our site (located on the left).
Air and Sea Cargo Delivery
We deliver cargo (30 kg and more) to Russia, Ukraine and other countries using well-known air and sea freight companies. Our company will carry out all required preparations and ship your cargo in the best way. We make delivery contracts and help with customs clearance, should the need arise.