Fulfillment: Shipping Goods to Buyers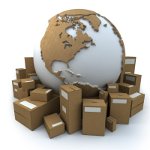 For those who sell goods via eBay, Amazon and other online platforms, the quality and speed of delivery are extremely important because they strongly affect the degree of customer satisfaction. RusBid offers to take care of delivery for you to keep your customers satisfied. We offer order fulfillment (PREP) services, helping merchants deliver their goods to buyers or Amazon warehouses.
When a buyer places an order on an online shopping platform, he or she expects to receive the purchases as soon as possible and to find them securely packaged and undamaged. Most buyers don't care if the seller has appropriate resources to quickly process incoming orders and to ship all parcels in a timely manner. When the seller doesn't have such resources, they can use order fulfillment services provided by third parties.
Order fulfillment is a long process that begins the moment a customer places the order and ends when he or she receives the order. As a rule, it includes order reception and processing, storage at the warehouse, order packing, shipment and delivery. Fulfillment services are typically provided by special fulfillment (PREP) centers.
At RusBid Inc., we offer fulfillment services to merchants on eBay, Amazon, and other U.S.-based online shopping platforms. We can accept your goods, store them at our warehouse until shipment, divide and consolidate parcels for buyers, mark and pack orders (including printing and attaching shipping labels), and ship and deliver parcels within the United States. As a result, merchants don't have to take care of all this themselves and can instead focus on developing their business and increasing profits.
Admission and Storage of Goods
One of the main problems related to international delivery of goods from sellers to buyers is long delivery time. Many American buyers prefer to cancel the deal, even a good one, once they learn that they will have to wait for weeks or even months until their purchase is delivered. As part of order fulfillment services, our company can accept your goods for storage in the U.S. and ship them on request, which allows to significantly reduce delivery time for buyers. When accepting the goods, our employees carry out all necessary checks to make sure that all goods are in good condition, meet the specified characteristics (weight, quantity), have intact packaging, etc.
Packing
Packing may require quite a lot of time and energy, especially when the order flow is increasing. As part of fulfillment services, RusBid offers division, consolidation and packing of orders to ensure effective management of goods from different suppliers and to minimize possible errors when shipping goods to customers.
The United States Postal Service (USPS) has certain requirements for parcel packaging. RusBid employees know these requirements and ensure that all packages to be shipped within the U.S. are appropriately packaged and labeled to meet them. Should the need arise, we can use special packing materials that cannot be opened without leaving a trace, such as security envelopes. Due to high-quality packaging, our shipments are protected from both damage during transportation and unsanctioned access.
Printing Shipping Labels and Shipping Within the US
All postal items in the United States, both domestic and international, are accompanied with shipping labels. A shipping label contains information about the sender and the recipient of the parcel, as well as data for parcel processing required by postal services and customs bodies. Originally, senders had to fill out postal labels by hand at a post office, but today it is possible to generate postal labels online and then print them out. Fulfillment services by RusBid include generating shipping labels for subsequent shipment of parcels to buyers in the United States.
Order fulfillment allows sellers to save money on leasing a warehouse as well as to save time on processing, packing and shipping orders. Besides, such services allow to ensure the availability of a certain stock of goods at the warehouse and to organize fast delivery to buyers in the U.S. at the first request without having to wait until the goods arrive from abroad. That's why fulfillment services by RusBid are a great option for sellers.
Our rates
Shipping goods to buyers
PREP Service / Fulfillment
Acceptance and inspection
$4 per parcel ($15 per pallet)
Marking, marking removal, processing, consolidation
min. $0.5 per item
Shipping goods to customers
- your shipping label
- our shipping label
(shipping cost not included)
min. $4
min. $6
Purchasing goods from suppliers
up to $1000 - 6%
$1000-$2500 - 5%
$10000 and more - 4%