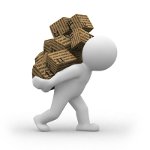 RusBid will help you purchase and ship goods to any of the former Soviet republics; your goods will be delivered to your nearest post office or even to your apartment.
What delivery methods are available for residents of the CIS countries?
Traditionally, packages from the United States are shipped to Belarus and other CIS countries via the United States Postal Service (USPS).
You can learn more about the USPS international mail services and shipping rates at the USPS website.
The parcel weight and size limits may vary depending on the destination country.
MEEST-America Inc.
MEEST-America Inc. offers the following shipping rates to the CIS countries:
Type of delivery
Country
Rate per 1 lb of weight, $
Rate per unit of cargo, $
Duty free limit
Maximum weight, lb
Delivery time, weeks

By air

MOL
2.89
20
200EUR
66
2
BAL
2.89
20
55USD
66
2-3
UZB
3.99
10
1000USD
66
2
KAZ
3.79
20
200EUR
66
3
KIR
3.79
25
200EUR
66
3
GEO
2.89
10
300Lari
66
2
AZR
3.79
20
1000USD
44
3
ARM
3.69
15
350EUR
66
2

By sea

BEL
1.49
20
22EUR
20
6
MOL
1.49
20
200EUR
66
6
BAL
1.59
20
55USD
66
6
To calculate the cost of shipping a parcel, add the rate per unit of cargo to the weight of the parcel (in lb) multiplied by the rate per 1 lb of weight.
Maximum weight limits vary from 44 lb to 66 lb depending on the country. Tracking is available. Insurance for 3% of the cost (optional), all parcels are insured for $60 by default.
Door-to-door delivery is available only in Ukraine, Moldova, regional centers of Kazakhstan, Uzbekistan, Georgia, Azerbaijan. In other cities and countries, you will have to receive your parcel at the nearest post office.
Please keep in mind that each country has its own duty free limit, which can vary from $55 to $1000. Be sure to indicate the declared value in the shipment order.