Our company offers procurement and delivery of goods from the United States to Ukraine and other CIS countries.
Being based in the United States and having sufficient experience in cooperation with transport and postal companies, we are ready to become your purchasing agent. We can order the goods you are interested in, make payments on your behalf, and oversee, organize and optimize the delivery of almost any legally permitted goods and cargo from the United States.
We invite shops, wholesalers and private merchants to cooperate. When you order shipping from the United States with us, you can be sure that your cargo will be delivered as soon as possible at minimum rates.
Commercial Cargo Delivery to Ukraine
Delivery by sea. Delivery time 2 months.
1*-99 kg: $50 + $3.8/kg + 10% of the value of the goods
100-299 kg: $50 + $3.5/kg + 10% of the value of the goods
300-999 kg: $50 + $3.3/kg + 10% of the value of the goods
1000 kg and more: $50 + $3.1/kg + 10% of the value of the goods

* Minimum chargeable weight is 30 kg. If your cargo weighs more than 500 kg, please contact our operators for a quote. For your cargo to be dispatched, you need to provide an invoice and proof of payment.
The cargo will be delivered to Kharkiv or Kyiv, or, if necessary, will be transported across Ukraine to the recipient's address by a carrier company.
Bumpers, fenders, oversized furniture and other light but sizable goods may be subject to a surcharge. In most localities, the goods are delivered to the recipient's address. We do not use this transportation method to ship cars, boats and other excisable goods.
Delivering Bulk Quantities of Goods in Multiple Parcels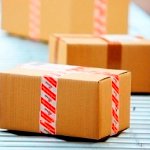 Say, you buy 200 kg of stock clothes or shoes at a liquidation sale. Of course, you can get them shipped as air or sea freight to Moscow, Kyiv or your city. Air/sea freight shipping rates are comparable to parcel shipping rates, but you will have to clear the cargo and pick it up from the customs warehouse yourself, which means additional time and money costs. Customs payments of 15% to 30% of the value of your goods are likely to make your purchase unprofitable. How can you avoid such a situation?
Instead of shipping the entire 200 kg of clothes/shoes in a cargo container, you can send 10 parcels weighing 20 kg each and thus prevent additional expenses and save money. If the goods are not bulky and the batch can be divided into several parts, shipping goods in multiple parcels is your best option.
For example, a Ukrainian resident can receive a parcel with a declared cost of up to 100 euros without customs clearance. Everyone has relatives, neighbors, friends and acquaintances, so the circle of recipients can be much wider. In addition, nothing prevents you from receiving one, two or three more parcels per recipient via different carriers, for example, USPS Express, USPS Priority, CDEK, Meest Air, Dnipro Air, etc., which means that the total number of parcels per recipient will increase by 2 to 6 times. And if you consider that the "one duty free package per recipient" rule means "one package a week", you'll realize that you can ship at least four packages a month. As a result, it is possible to ship a big batch of goods in multiple parcels without having to pay customs fees, as long as the parcels don't arrive at customs at the same time due to shipment delays and get processed together.
This delivery method is suitable for shipping almost any type of goods not prohibited by law: clothes, computer hardware, equipment, auto parts, toys, musical instruments.