Parcel Delivery from the United States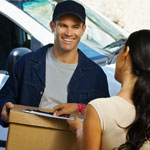 RusBid delivers goods from the United States, offering various shipping options. Depending on size and weight, we can ship your purchases as a small parcel, as a regular parcel, as consolidated cargo, or by container. As the majority of our customers are private individuals, we ship most orders as parcels.
A parcel, also known as package, is a type of mail used to deliver various objects, equipment, foods, documents, printed matter, etc. In fact, you can use parcel service to ship virtually all kinds of goods, except for prohibited ones. There are various types of parcels, including parcels with declared value, ensured parcels, cash on delivery parcels, etc.
Read more...