Air Freight Shipping from the United States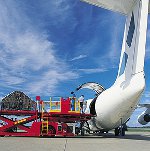 Air freight shipping is a fast and reliable way to deliver goods from the United States. Cargo is delivered by air in a matter of days, whereas cargo transportation by sea or car can take weeks.
Air freights services are provided by well-known airlines, using optimal logistic delivery schemes. Depending on the characteristics of the cargo, it can be transported by regular or charter flights. Air cargo can be very diverse, varying from small valuables to bulky cargo.
Air Freight Shipping Rates from the United States
Air shipping rates from the United States are calculated depending on the weight and size of the goods that need to be delivered. Due to the limited space in aircraft cargo compartments, carriers typically charge by dimensional weight, also known as volumetric weight, instead of gross weight. Volumetric weight is calculated using the following formula:
Vkg = А х В х С / 6000, where V is volumetric weight in kilograms, A, B, C are dimensions in centimeters.
Vkg = А х В х С / 363, where V is volumetric weight in kilograms, A, B, C are dimensions in inches.
Moscow Sheremetyevo 2
Saint Petersburg, Moscow other airports
Vilnius, Tallinn, Minsk, Kyiv
Nur-Sultan, Baku, Almaty, Tashkent, Bishkek
Frankfurt, Berlin, London, Paris
Helsinki, Warsaw, Prague, Budapest
Paperwork, other duties and fees
$75+$1.0/kg
$75+$1.3/kg
$75+$1.0/kg
$75+$1.2/kg
$75+$1.3/kg
$75+$1.3/kg
<45Vkg
$7/Vkg
min $275
$7.7/Vkg
min $275
$8.1/Vkg
min $250
$9.5/Vkg
min $300
$6.5/Vkg
min $250
$6.6/Vkg
min $250
45-100Vkg
$5.7/Vkg
$6.5/Vkg
$6.1/Vkg
$7.0/Vkg
$5.3/Vkg
$5.5/Vkg
100-300Vkg
$3.5/Vkg
$3.9/Vkg
$3.4/Vkg
$3.8/Vkg
$2.7/Vkg
$3.0/Vkg
>300Vkg
$2.9/Vkg
$3.1/Vkg
$2.8/Vkg
$3.4/Vkg
$2.2/Vkg
$2.5/Vkg
Cargo delivery to the airport: $25 / up to 50 kg + $15 for each subsequent incomplete 50 kg
Insurance (optional): 0,5% of the value of the cargo.
Alcohol-containing, gas-containing and flammable goods (aerosols, varnishes, gas shock absorbers, batteries, engines, etc.) are considered dangerous for air transportation. Therefore, shipping rates for these categories of goods may be higher than regular ones. In such a case, MSDS (Material Safety Data Sheets) must be provided for rate calculation and shipping.
To calculate the shipping cost, you need to add up the cost of paperwork, duties and fees, the shipping rate by volumetric weight, and the cost of cargo delivery to the airport. Delivery includes the issuance of an invoice, an air waybill and other required documents, transportation to the airport in New York, and dispatch to the recipient's airport. Cargo acceptance and customs clearance are carried out by the recipient or their authorized representative in the destination airport.
When shipping cargo by air, our services are paid for according to our rates depending on whether you purchase and pay for the cargo, or we do it for you. In the former case it will be 6-9% of the cost, in the latter case it will be $1 per kg of cargo weight. For shipment, the goods need to be delivered to our warehouse in Maryland or New Jersey; you can learn the address from our operators.
How to start working with us:
1. Register in the www.rusbid.com system.
2. Submit your order (Balance –> Add Purchase). We can purchase goods on your behalf, or you can make a purchase yourself and get it delivered to our address. You can always check the status of your order in the Status column of your Balance.
3. Pay for the order (you can find the payment details on the Payment Methods page). Enter payment information (Balance, Add Payment).
4. Upon the arrival of the cargo to our warehouse, place a shipment order (Balance, Add Shipment).
We will do everything possible to make sure that air shipping from the United States becomes an easy and affordable way for you to receive any cargo from the United States. For more detailed information, please contact our operators.